Tyler Derr
Short Bio
Tyler Derr is an Assistant Professor in the Department of Computer Science, Teaching and Affiliate Faculty in the Data Science Institute, and Faculty Fellow in the Frist Center for Autism and Innovation at Vanderbilt University. He received his PhD (2020) in Computer Science from Michigan State University under the supervision of Dr. Jiliang Tang and was a member of the Data Science and Engineering (DSE) Lab and Teachers in Social Media (TISM) Project. He had complete his MS (2015) in Computer Science at The Pennsylvania State University and dual BS (2013) in Computer Science and Mathematical Sciences at The Pennsylvania State University.
Tyler directs the Network and Data Science (NDS) lab, which focuses on data mining and machine learning, especially in social network analysis, deep learning on graphs, and data science for social good with applications in drug discovery, education, political science, and autism research. He has published in and regularly serves as a SPC/PC member at the top conferences in these domains and served in organizational roles including Publicity Co-Chair of KDD'22/'23, Doctoral Consortium Co-Chair of WSDM'22, Proceedings Co-Chair of KDD'21, and co-organized the Deep Graph Learning workshop at IEEE BigData'19, Machine Learning on Graphs workshop at WSDM'22/'23 and ICDM'22, Topic Editor in Frontiers in Big Data, and Associate Editor for Elsevier Big Data Research. He was the recipient of the Best Reviewer Award at ICWSM'19/'21, the Best Student Poster Award at SDM'19, the ''People's Choice'' Award for the 3 Minute Thesis Competition at MSU, the Fall 2020 Teaching Innovation Award from the School of Engineering at Vanderbilt, and his student Yu Wang recently received Vanderbilt's C. F. Chen Best Paper Award in Computer Science in 2022.
Research Interests
data mining, machine learning, mining and learning on graphs, social network anlaysis, graph neural networks, ethical and responsible AI, recommendation systems, data science for social good (e.g., drug discovery, education, political science, and autism research)
[Open positions]
I am recruiting PhD students to work with us in the NDS Lab on topics in our general interests (see NDS Lab research interests to the right). Master's and undergraduate students within Vanderbilt University and visiting scholars are also welcome. Please feel free to email me.
Please see here for position details.
Call for Papers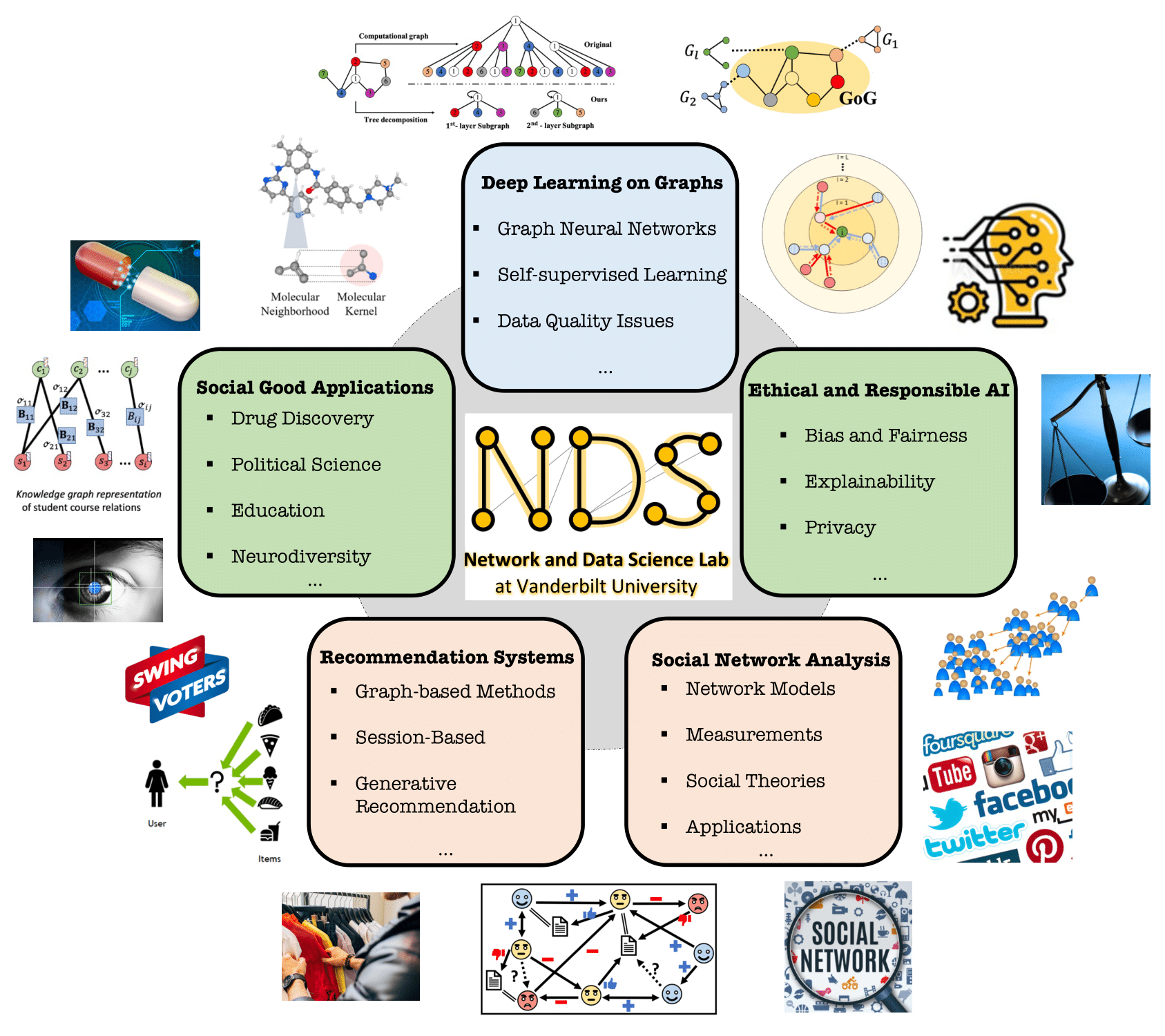 News (See past news before joining VU here)
2023
4/2023: Our paper ''Adversarial Attacks for Black-box Recommender Systems via Copying Transferable Cross-domain User Profiles'' is accepted in IEEE TKDE

3/2023: Selected for the Visiting Faculty Research Program (VRFP) of The Air Force Research Laboratory's Information Directorate (AFRL/RI) and Information Institute (II) during Summer 2023

3/2023: Will give an invited talk at ACM Web Conference during Knowledge Graph Day

3/2023: My PhD student Yuying Zhao will present her work ''Learning Beyond Utility for Social Good: Fairness, Explainability, and Diversity'' at SDM'23 Doctoral Forum

3/2023: Our paper ''ADEPT: Autoencoder with Differentially Expressed Genes and Imputation for a Robust Spatial Transcriptomics Clustering'' is accepted at RECOMB-Seq 2023 and published in iScience

3/2023: My PhD student Yunchao (Lance) Liu's gave an (recorded) invited talk at Molecular Modeling and Drug Discovery (M2D2) organized by Mila and Valance Discovery presenting our work MolKGNN

3/2023: Our workshop Machine Learning on Graphs (MLoG) is accepted at ICDM2023 (4th iteration)

1/2023: Our paper ''Collaboration-Aware Graph Neural Networks for Recommendation Systems'' was accepted at ACM Web Conference

2023: Invited to serve as an external reviewer for Research Grants Council (RGC) of Hong Kong during 2023.

2023: Invited to serve as a grant proposal panelist for NSF during 2023
2020
12/2020: Invited to serve as PC member for ICML2021

12/2020: Our paper ''Stock Selection via Spatiotemporal Hypergraph Attention Network: A Learning to Rank Approach'' is accepted at AAAI2021

12/2020: Invited to serve as PC member for ACL2021

11/2020: Invited to serve as PC member for KDD2021

11/2020: Introduced CS and AI topics to students at Ardsley High School through Skype a Scientist

11/2020: Panelist on the ''Graduate School is not a Job'' graduate recruitment event

10/2020: Our paper ''Node Similarity Preserving Graph Convolutional Networks'' is accepted at WSDM2021

10/2020: Our paper ''CopyAttack: Attacking Black-box Recommendations via Copying Cross-domain User Profiles'' is accepted at ICDE2021

10/2020: Gave an invited talk ''Navigating the Faculty Job Search'' in Michigan State's College of Engineering Graduate Lunch & Learn seminar

9/2020: Gave an invited talk ''Graph Neural Networks: Social Networks and Beyond'' in the Biomedical Engineering Department at Vanderbilt Unv.

9/2020: Gave an invited talk at Change++

9/2020: Our tutorial ''Graph Neural Networks: Models and Applications'' has been accepted by AAAI2021

9/2020: Preprint ''Road to the White House: Analyzing the Relations Between Mainstream and Social Media During the U.S. Presidential Primaries''

9/2020: Invited to serve as PC member for IJCAI2021

9/2020: Invited to serve as PC member for WWW2021

9/2020: Our paper ''Understanding and Promoting Teacher Connections in Online Social Media: A Case Study on Pinterest.'' is accepted at IEEE TALE2020

8/2020: Invited to serve as Proceeding Chair of KDD2021

8/2020: Our paper ''Learning from Incomplete Labeled Data via Adversarial Data Generation'' is accepted at ICDM2020

8/2020: Invited to serve as PC member for AAAI2021

8/2020: Invited to serve as PC member for GTA3@BigData2020

8/2020: Invited keynote at joint workshops Deep Learning on Graphs: Methods and Applications and Mining and Learning with Graphs at KDD2020

8/2020: Invited to serve as a reviewer for EAAI2021.

8/2020: Awarded KDD2020 Student Registration Award (and partial KDD2021 registation credit) from NSF and SIGKDD

8/2020: I joined Vanderbilt University and established the Network and Data Science (NDS) Lab